The members of the Georgia Tech Facilities Management leadership are honed experts in their respective fields.
Charles G. Rhode
Vice President, Facilities Management
Mr. Chuck Rhode is the Vice President for Facilities Management. Mr. Rhode joined Georgia Tech in 1995 after 27 distinguished years in the United States Air Force.
In 1995 he served as the Georgia Tech's Director of Physical Plant. During this period, he led the plant through the formidable task of supporting the 1996 Olympics. During his tenure Georgia Tech's facilities have undergone extensive improvements and expansions, developing over one billion dollars of construction that doubled the square footage on campus. More than thirty new facilities have been designed and constructed to sustainable standards. A vibrant infrastructure revitalization program and extension renovations were also initiated to support the expansion.
Rhode has led the effort to restructure the Facilities department, resulting in economies, efficiencies and best practices throughout the organization. He continues to prioritize the development and support of innovative facilities through such programs as green cleaning, a national award-winning recycling program and industry-leading preventative maintenance technology.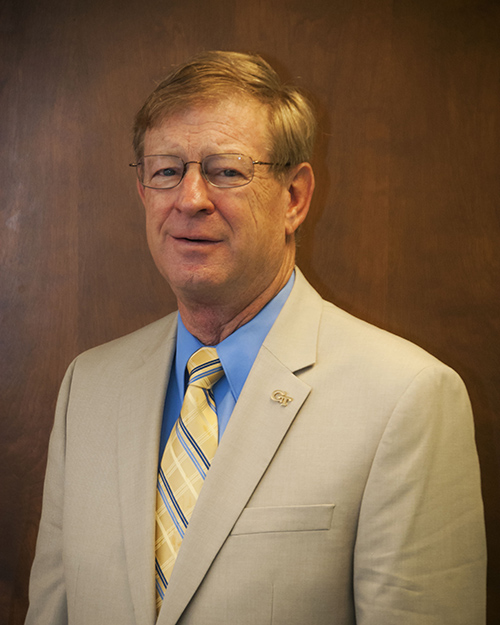 Gary Jelin
Assistant Vice President, Design & Construction (Interim)
Gary Jelin, AIA, NCARB, REFP, LEED GA has been a registered architect for more than 30 years and has devoted the majority of his career to educational design. He is responsible for the operational and financial management of a core group of registered architects, engineers and construction managers that prepare design drawings and manage construction for campus projects. Gary also maintains sustainable design standards for use in the planning, design and construction of all campus projects. He also works with senior project managers to augment design personnel by securing contracts for outside professional architectural and engineering services and integrates these services with in-house staff. He is a long-standing member of the American Institute of Architects (AIA) and the Association for Learning Environments (formerly CEFPI) where he has presented at national conferences. Always an involved member of the of the architectural community, Gary feels that as a veteran in his field, he has a duty to serve, to lend his time, to share his knowledge and to prepare the next generation of architects for the challenges to come.
Nazia Zakir
Assistant Vice President, Environmental Health & Safety (EHS)
Ms. Zakir directs the EHS team to meet public health, safety and compliance responsibilities for the campus community. She has spearheaded training and inspection initiatives including Radiological Incident Response, Laser Safety and an increased controls program from the National Nuclear Security Administration. Zakir has been working in safety field for twenty two years, with a diverse background working in the Department of Energy National Lab, in a clinical setting as a Medical Physicist and in University Health Physics. She has a master's degree in Environmental Sciences with a focus on Radiological Physics and is a Certified Health Physicist.
Steve Sywak
Director, Facilities Information Technology
Mr. Sywak leads the IT team that provides computing services and technology solutions to the varied customers in Facilities Management. He has spearheaded the implementation of many new programs and/or systems within the department starting with what is now called the controls network. Some of the other systems Steve has introduced to this department is remote computer management, remedy helpdesk ticketing, EnergyCap utility billing, and a new engineering document management system. Steve has also been instrumental in growing and maintaining smart meter energy systems. Mr. Sywak has been working in the technology field for more than twenty years, with a relentless pursuit of service excellence. Whether it is providing an energy dashboard solution or a technical resource, Steve and his team are committed to providing superior customer service.
David Goldfarb
Director, Facilities Business Services
Mr. Goldfarb has been the Director of Financial Administration for the Facilities Management Division at Georgia Tech for the past ten years, overseeing vital processes such as work order requests, annual budgeting and contract completion. Under his charge the number of contracts administered by the Finance unit has nearly doubled and the unit has implemented major technology system enhancements to improve efficiency. Prior to working at Georgia Tech, Mr. Goldfarb worked at Children's Healthcare of Atlanta and Georgia Power Company.
Jessica Rose
Jessica Rose, Associate Director Analytics and Communication
Ms. Rose oversees over $30M of utility billing and associated charge-backs for the campus, manages all public affairs needs for the 12-department unit and oversees the unit's responses to all annual assessment needs. Before coming to Tech, Rose worked on sustainability and communication strategies in an agency environment. She has a bachelor's degree in Mass Communications from Florida International University and a master's degree in City and Regional Planning from Georgia Tech.
Ben Mason
Assistant Vice President, Operations & Maintenance (Interim)