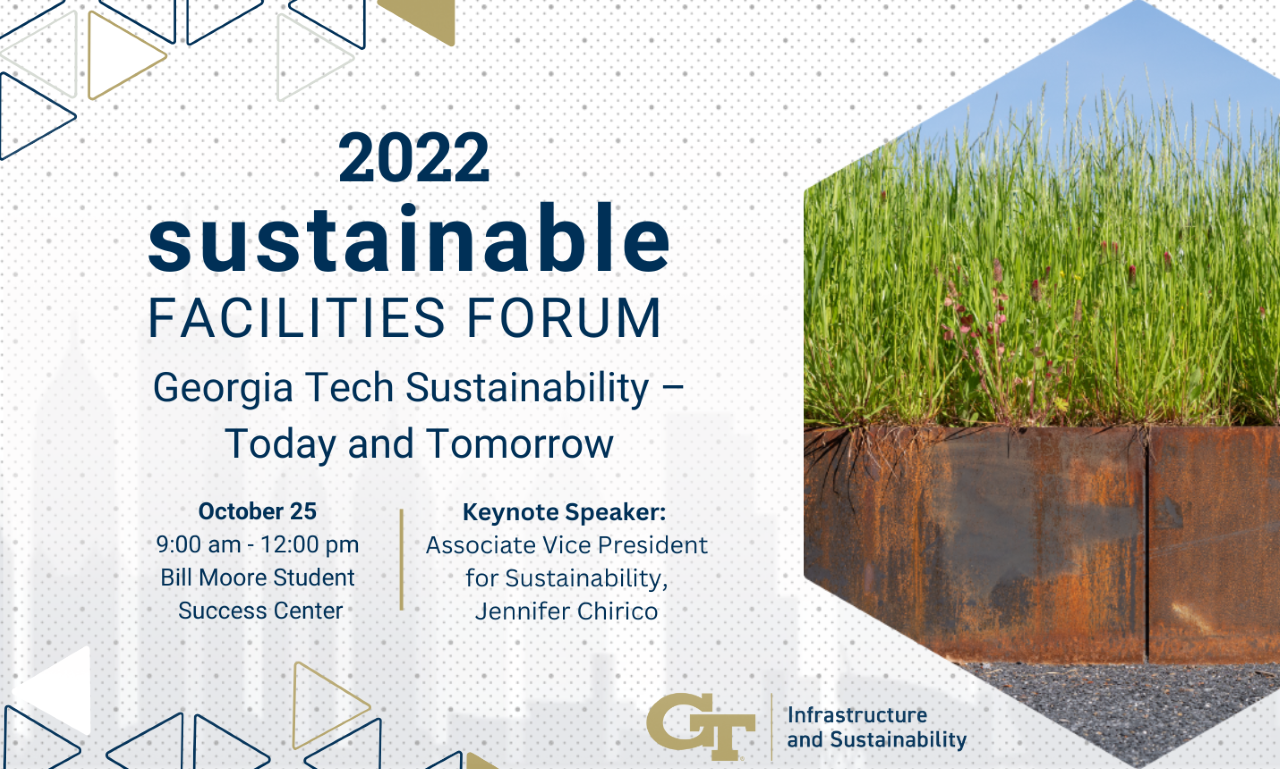 Introduction and Welcome - 9:00 a.m.
Key Note Speaker - 9:15 a.m. - 10:00 a.m. 
Sustainability Today & Tomorrow - Jennifer Chirico, Assoc. Vice President of Sustainability, Infrastructure and Sustainability
Presentation 1-  10:15 a.m. - 10:45 a.m. 
 EPICenter Initiatives- Joe Hagerman, Director - Energy Policy and Innovation Center at Georgia Tech
Presentation 2 - 11:00-11:30
Georgia Tech Climate Action Overview - Jillian Buckholz, Sustainability Advisor, Brailsford & Dunlavey
Presentation 3 - 11:45-12:15
Georgia Tech Landscape Management Electrification - 
David Gennaro, Assoc. Director, Landscape and Grounds, Georgia Tech
Clayton Patterson, Turf Maintenance Manager, Landscape and Grounds, Georgia Tech
The Sustainable Facilities Forum was born out of an Infrastructure and Sustainability (I&S) volunteer-based committee consisting of staff members from all segments of the unit. The committee is dedicated to supporting a more sustainable built environment through increased information sharing and influencing procedure improvements.
The forum began in 2016 and is meant to celebrate and expand how the Infrastructure and Sustainability departments are approaching the design and operations of our campus built environment. Through inspiring guest speakers, the forum connects members of the I&S unit, campus community members and higher education colleagues from across the country.
The 2022 forum planning committee members are Pat Ficenic, IT Support Manager; Cathy Brim, Communications Officer II; David Gennaro, Assoc. Director, Landscape and Grounds; Jordan Barron, Campus Sustainability Project Manager
2022 Sustainability Committee and Forum Chair - Malte Weiland, Sr. Sustainability Program Manager.