Our Mission
The Zero Waste department supports Georgia Tech's recycling, waste diversion, and reuse programs. We promote efforts to decrease the amount of waste produced on campus in order to ultimately reduce the amount of waste that goes to the landfill.
Solid Waste
Zero Waste works to ensure that non-hazardous solid waste produced on the Georgia Tech campus is handled in an efficient, economic. and sustainable manner. Our office manages the solid waste contract for the Georgia Tech campus. Under the terms of the contract, campus waste in dumpsters, roll-offs and compactors is collected on a regular basis and land filled.
Recycling
Zero Waste strives to make the Georgia Tech campus more sustainable by diverting waste through recycling and other recovery programs. Our comprehensive recycling program includes conveniently located collection sites and regular pick-ups for campus wide recycling. In addition, we coordinate recycling initiatives for special events, home football games, and Earth Month activities. Zero Waste is committed to improving and expanding opportunities for recycling, recovery, and reuse in order to divert the largest possible percentage of campus waste from the waste stream.
Awareness
Our success hinges on the active participation of everyone on campus. This office makes every effort to raise awareness for the importance of reducing and diverting waste and to encourage the cooperation of the Georgia Tech community in our recycling and recovery programs. We work closely with student groups on environmental initiatives, meet with students, faculty & staff, and provide updates to our communications team and social media accounts about our campus recycling program.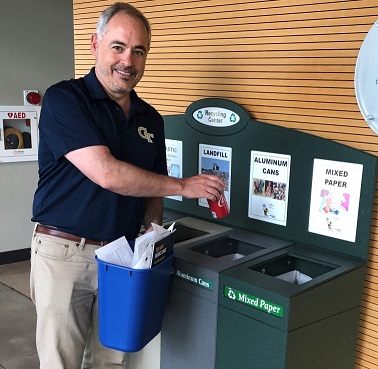 President's Message
Georgia Tech is committed to developing leaders who understand the importance of a healthy planet to improve the human condition and are ready to make a difference. We carry out that mission not only through education and research, but very importantly, by being an example of sustainability in our own operations. The AWARE program helps the environment and it serves as a daily reminder to all of us that we can all make a difference.
Georgia Tech President Ángel Cabrera