Infrastructure and Sustainability, a unit of Administration and Finance, is comprised of more than 500 dedicated professionals who support operational excellence through innovative and efficient physical infrastructure services for the Georgia Institute of Technology. 
The unit is comprised of the following departments: Building Engineering and Energy Strategies (BEES), Building Maintenance, Building Services, Custodial, Data Analytics, Environmental Health & Safety, Fleet Management, Keys & Locks, Landscape Services, Planning, Design & Construction, Solid Waste and Recycling, Staging, Office of Sustainability, and Utilities & Engineering.
I&S provides sustainable, safe and well-maintained facilities throughout campus and welcomes inquiries and collaborations with Georgia Tech students.
NOTE: For any questions regarding construction projects on campus, please contact the Associate Director for Construction Services - Chris Sanders at chris.sanders@facilities.gatech.edu.
STUDENTS: For any questions regarding facilities' utility, space, operations, or maintenance information, please complete the Living Campus engagement form or contact Program and Operations Manager, Cheryl Kelley at cheryl.kelley@facilities.gatech.edu. 
The location project will last 10 days.
The O'Keefe gym will receive a new roof this semester.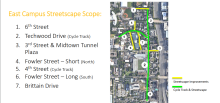 The latest on campus construction, renovation, and renewal projects.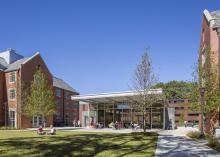 The University System of Georgia Board of Regents recently approved Georgia Tech's proposal to construct a new student residential facility on campus to accommodate first-year enrollment growth over the next 10 years.