Infrastructure and Sustainability (I&S) is a unit of the Division of Administration and Finance. We support operational excellence through innovative and efficient physical infrastructure services for the Georgia Institute of Technology.  
The unit is comprised of 14 departments that service the campus: Building Engineering and Energy Strategies (BEES), Building Maintenance, Capital Planning and Space Management, Custodial, Data Analytics, Design & Construction, Environmental Health & Safety, Fleet Services, Keys & Locks, Landscape Services, Solid Waste and Recycling, Staging, Sustainability, and Utilities & Engineering. 
We are a team of dedicated professionals responsible for providing sustainable, safe and well-maintained facilities throughout the campus.
For any questions regarding construction projects on campus, please contact Assoc. Director, Construction Services - Chris Sanders at chris.sanders@facilities.gatech.edu or 470-494-0083.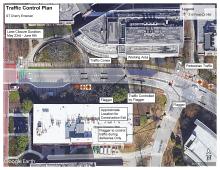 Traffic will be impacted on Ferst Drive due to the installation of a new water line.
Beginning Wednesday, May 11, contractors will be onsite outside the Smithgall Student Services Building and W02 Student Center Parking Deck to reroute communication lines.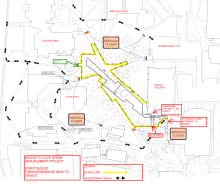 Pedestrian walkways will be impacted between the Boggs Building, Love Manufacturing Building, the IC Lawn, and the Manufacturing Related Disciplines Complex beginning May 9 for a steam replacement project.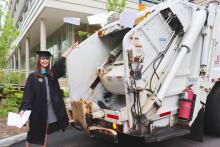 Emma Brodzik, campus sustainability project manager, earns her master's this weekend.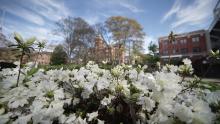 Georgia Tech will celebrate its 25th annual Earth Day with a 4-day schedule of events this week.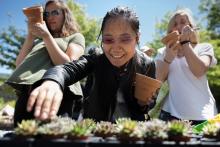 A few events have opened registration or are already collecting items — so get a head start on your Earth Day plans.