Blank Space (small)
(text and background only visible when logged in)
Blank Space (small)
(text and background only visible when logged in)
Green Cleaning Manual
A Healthier Way to Clean
When very few institutions were considering the harmful impacts of traditional cleaning products, Georgia Tech was systematically removing toxic chemical cleaners and replacing them with healthier and more environmentally friendly products. 
Our Georgia Tech Green Cleaning program reduces chemical exposures and supports positive outcomes by:
protecting student and building occupant health
protecting the custodial staff health who work closely with the cleaning products
protecting the environment by reducing the release of potentially hazardous chemicals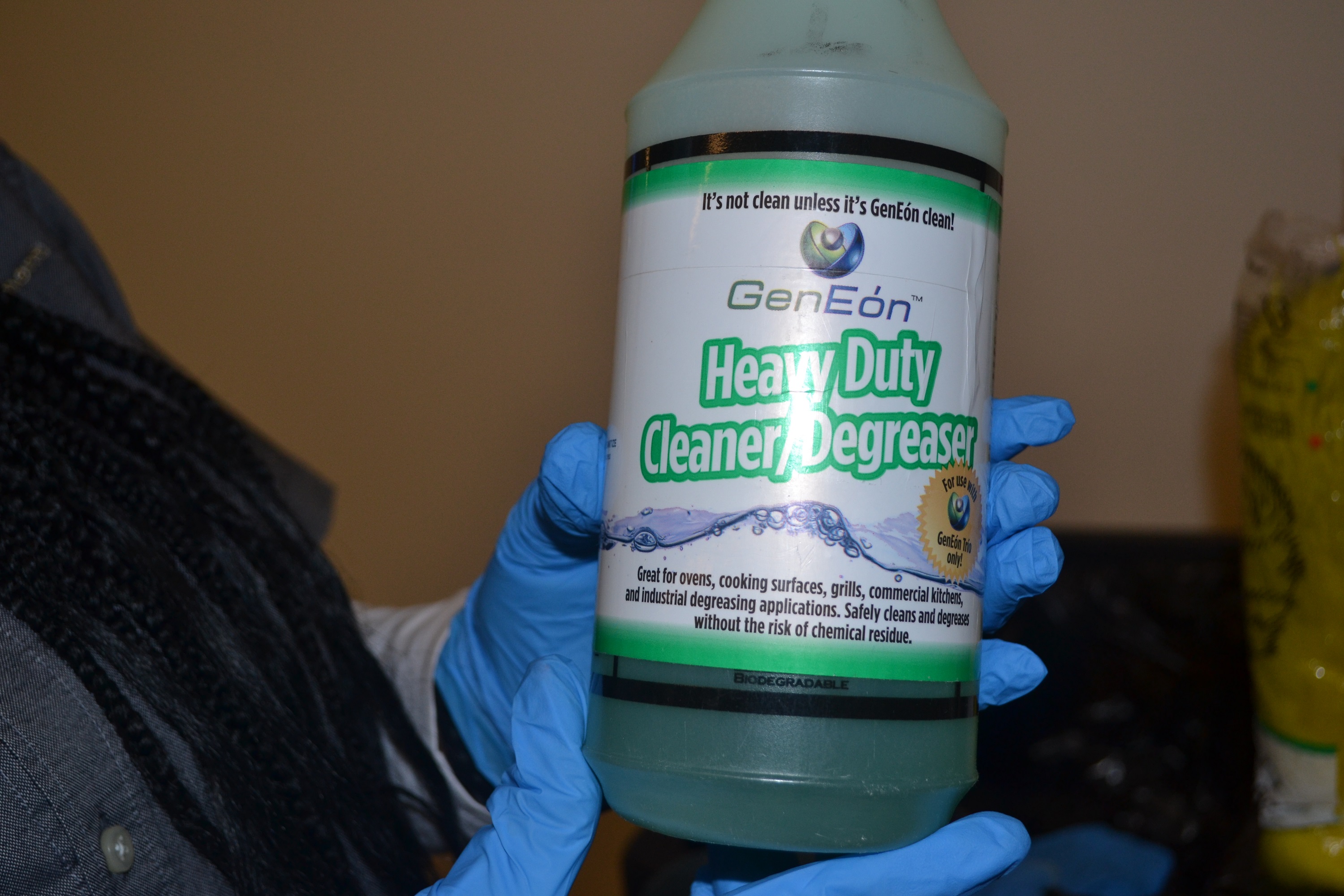 Campus Green Cleaning product.
How Do We Do It?
Wind power is utilized for paper towel production.
Micro-fiber mops and rags are laundered on site.
Green Seal certified cleaning products are used throughout campus.
Departmental procurement policies prefer sustainable products and supplies.
The custodial staff undergoes continuous training on sustainable cleaning methodology.
Through the use of quiet operation backpack vacuums that exceed HEPA requirements
Did You Know?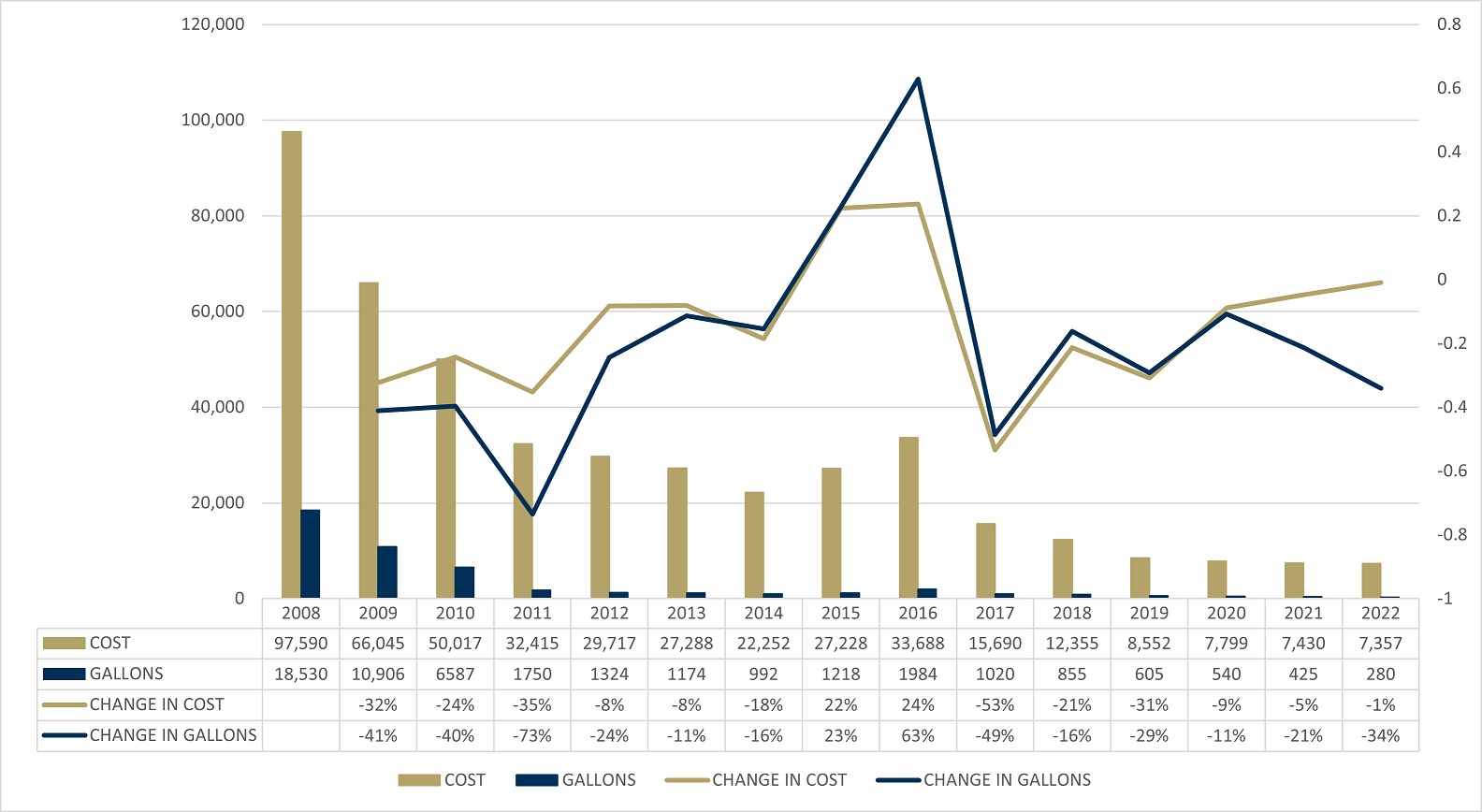 Savings for Our Planet and the Bottom Line
After fully implementing the green cleaning program, an analysis revealed an annual cost savings of 84% over initial baselines. Comparable savings have been met year after year from reduced water usage, fewer product purchasing and innovative technology adoption. In recent years, the department adopted on-site generated cleaning solutions which reduce waste and eliminate the associated carbon footprint of delivery transportation. The increase in overall product cost is due to the rise in the price of certain products and the increase in square footage (i.e. adding the EBB building as a custodial mini-zone increased the usage of products.)
Green cleaning equipment includes efficient scrubbers, electrostatic foggers, and chemical-free stripping solutions. 
Georgia Tech operates its own in-house laundry to clean micro-fiber mobs and rags.
The Institute replaced top-load washing machines (28 gallons of water per load) with front-load machines (14 gallons of water per load).
100% reduction in traditional cleaning products from 2008 to 2022.

Green Seal Certified
Georgia Tech's Green Cleaning program is independently certified under both Green Seal Standard GS-42 and ISSA CIMS-Green Building.
Protects Human & Environmental Health: The program uses non-toxic, biodegradable cleaning products and limits worker's and occupant's exposure to contaminants.
Operates Efficiently: The program implements building-specific operating procedures.
Provides Education: The program trains custodial staff on effective cleaning measures and educates procurement officers on sustainable purchasing options.
Communicates Effectively: Frequent communication with owners, managers, and occupants ensures efficient and effective cleaning.
Reduces Waste:  The program utilizes a recycling program and supports minimally packaged, recyclable, and reusable materials.
A Green Service That Cleans: Frequent evaluations to certify effective cleaning procedures and practices.

For more information visit www.GreenSeal.org and ISSA CIMS FAQ.

Our Commitment to Wind Energy
Georgia Tech Building Services is committed to purchasing products made with Green, E-certified renewable wind power from Community Energy. By using products made with wind energy, Georgia Tech Building Services is making a difference by supporting cleaner air and lower greenhouse gas emissions.
Georgia Tech Green Cleaning Awards and History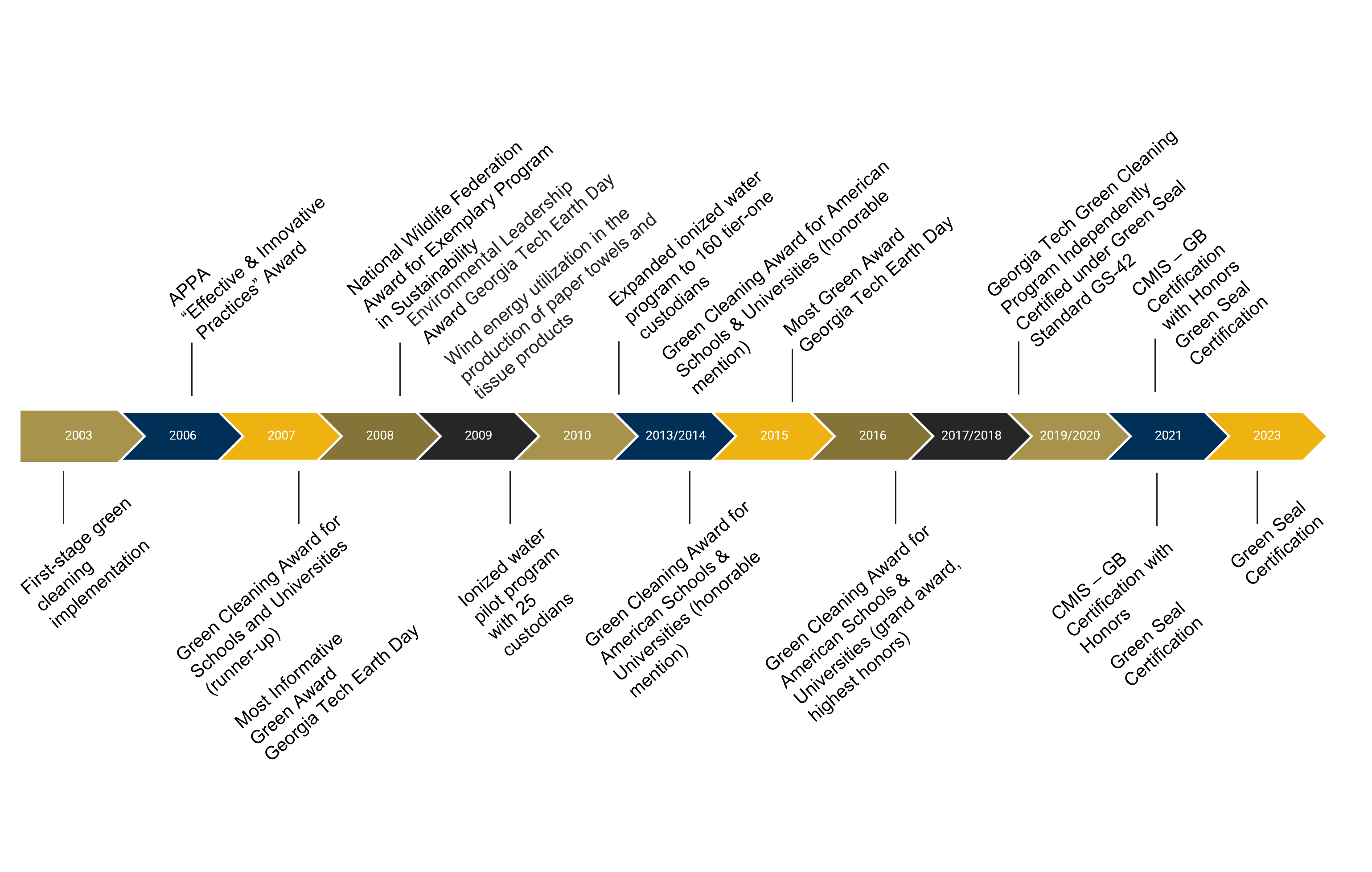 2023 Green Seal Certification

2021 CIMS - GB Certification with Honors

2021 Green Seal Certification

2019 & 2020 Green Seal Certification

2019 CIMS - GB Certification with Honors

2017 & 2018 Green Seal Certification

2016: Georgia Tech's Green Cleaning program is independently certified under Green Seal Standard GS-42

2015: Green Cleaning Award for American Schools & Universities (Grand Award, highest honors) 

2013 & 2014: Most Green Award Georgia Tech Earth Day

2010: Green Cleaning Award for American Schools & Universities (Honorable Mention)

2010: Expanded program to 160 tier-one custodians

Reduced number of cleaners used, simplifying the green cleaning program with a cost-effective option.

2009: Established a pilot program using ionized water with 25 custodians

Assigned handheld sprayers tracking them with a sign-in/sign-out procedure.

2008: Wind energy utilization in the production of paper towels and tissue products

2008: Environmental Leadership Award Georgia Tech Earth Day

2008: National Wildlife Federation Award for exemplary program in sustainability

2007: Most Informative Green Award Georgia Tech Earth Day

2007: Green Cleaning Award for Schools & Universities (Runner up)

2006: APPA  "Effective & Innovative Practices Award"

2003: First-stage green cleaning implementation

Removed toxic chemical cleaners and replaced them with environmentally-friendly products
What Is Ionized Water and How Does it Work?
Ionization, a process also known as electrochemical activation, was discovered by British scientist Michael Faraday in the 1830s. The process utilizes an electrical charge to energize a mixture of tap water and natural minerals to create a powerful cleaner, degreaser, and sanitizer. 
Powerful sanitizer that is 80-200 times stronger than bleach, but without the harmful side effects. It is safe for plants, animals, and people.
Used in health care to treat wounds and burns, therefore non-toxic.
Used to sanitize fruits, vegetables, and other foods throughout the food industry. 
Kills 99.99 percent of harmful bacteria in less than 10 seconds.