History of Awards, Certifications and Developments 
2023:
Ribbon-Cutting for the The Reck Garage, a new home for our mechanical mascot
Leading by Example in Sustainability Staff Award Winner - Horticulturalist II Steve Place
Ground-breaking for the Diving Nine Plaza
Community Garden expansion ribbon-cutting 
2022:
The John C. Lewis Student Center officially opens
The Kessler Campanile and reimagined fountain opens
Leading by Example in Sustainability Staff Award Winner - Campus Sustainability Project Manager Emma Brodzik
Leadership in Action Staff Award Winner - Fleet Services Manager, Sam Evans III
Friend of the LGBTQIA Resource Center Award - Interim Assoc. Vice President, The Office of Sustainability Alex Ortiz
The Kendeda Building for Innovative Sustainable Design wins "Best Sustainability by an Educational Institution" Energy Matters Award from the Georgia Public Service Commission
The Kendeda Building wins Atlanta Urban Design Commission's Award of Excellence for Sustainable Design
The Kendeda Building wins Climate Champion Award and People's Choice Award at the U.S. Green Building Council Georgia Chrysalis Awards
Horticulturalist II Steve Place is featured in Drawdown's Neighborhood: Atlanta documentary film
2022 Tree Campus USA Designation by the Arbor Day Foundation for the 15th consecutive year.
Groundbreaking for Science Square
2021:
Building Services achieved ISSA-CIMS-Green Building with Honors and the GS-42 Green Seal recertification for the Green Cleaning program.
The Library Next Renewal Project wins the Excellence in Sustainable Rehabilitation Award from the Georgia Trust for Historic Preservation.
The Kendeda Building For Innovative Sustainable Design achieves Living Building Certification 3.1 -

 the world's most ambitious and holistic green building achievement. The certification from the International Living Future Institute independently verifies that The Kendeda Building is among the greenest in the world.

The Kendeda Building achieves the LEED platinum v4 certification.

The Kendeda Building achieves a COTE Top Ten Award from the American Institute of Architects.

The EcoCommons officially opens on April 19, 2021.

The Kendeda Building and the adjacent EcoCommons certified as a Georgia Audubon Wildlife Sanctuary. Georgia Tech is

 the first university/college campus building in Georgia that has achieved this certification. 
The Kendeda Building property certified as Gold Native Plant Habitat from the Georgia Native Plant Society.
The Dalney Building named one of the top 10 "Extra Green Buildings" by the Urban Land Institute.
The Georgia Tech campus achieves Level II Arboretum accreditation through the ArbNet program.
2021 Tree Campus USA Designation by the Arbor Day Foundation for the 14th consecutive year. 
Material Health Open Invitation Presentation Award to Maria Ceballos
2020:
The Library Next two-phase renovation of the Crosland Tower and Price Gilbert Memorial Library complete.
2020 Tree Campus USA Designation by the Arbor Day Foundation for the 13th consecutive year.
Georgia Tech won first place in the Recyclemania: Race to Zero Waste One Building Challenge (The Kendeda Building for Innovative Sustainable Design)
2019:
Campus Safety/GTPD new building grand opening July 2019.
The Kendeda Building for Innovative Sustainable Design received the Development of Excellence Award from the Atlanta Regional Commission.
The planning for the  "Seven Bridges of Konigsberg" and the design of The Van Leer Interdisciplinary Design Commons both received an Innovation Award at the Facilities Officers Conference. 
Harrison Square was recognized with an Honorable Mention for Excellence in Landscape Architecture and the West Village Dining Commons was recognized with an Honorable mention for Excellence in Architecture, both by the Society of College and University Planning (SCUP)
The Building Services Department achieved the International Sanitary Supply Association's (ISSA) Cleaning Industry Management Standard - Green Building (CIMS-GB) accreditation With Honors.  
Infrastructure and Sustainability achieves International Institute for Sustainable Laboratories (I2SL) membership.
2019 Tree Campus USA Designation by the Arbor Day Foundation for the 12th consecutive year.
2018:
Infrastructure and Sustainability (formerly Facilities Management) received the APPA Award of Excellence, APPA's highest institutional honor, providing national and international recognition for outstanding achievements in facilities management
2018 Tree Campus USA Designation by the Arbor Day Foundation for the 11th consecutive year
Building Services was awarded the APPA Effective and Innovative Practices Award for its Smart Restrooms pilot program
SCUP Excellence in Landscape Architecture - General Design Merit award for Atlantic Drive Promenade with Perkins+Will
SCUP/AIA-CAE Excellence in Architecture for Building Additions or Adaptive Reuse Merit award for Glenn and Towers Residence Halls Renovation with Addition with VMDO Architects 
2017:
Georgia Tech achieved a prestigious 4-star rating as part of the Professional Grounds Management Society's (PGMS) Landscape Management and Operations Accreditation. Tech was originally accredited in January 2015 with a 3-star rating

 
2017 Tree Campus USA Designation 

by the Arbor Day Foundation for the 10th consecutive year

Work Green Champions 2017 Certification/Certified Gold by the Georgia Tech Office of Campus Sustainability 
Office of Campus Sustainability $500 Work Green Mini-Grant recipients
Re-certified with the National Institute for Automotive Service Excellence (ASE) "Blue Seal Certification"
John and Joyce Caddell Building recognized with a merit by AIA Georgia Design and Honor Awards for excellence in architectural design
Infrastructure and Sustainability received a $500,000 rebate check for the installation of high efficiency equipment in both district energy plants
Associate Director of Landscape Services & Fleet Services, Hyacinth Ide, received the University System of Georgia Board of Regents Distinguished Service Award
Larry Labbe, Georgia Tech's Deputized Fire Marshal, won the Fire Official of the Year Award at the 25th Annual Insurance Safety & Fire Commissioners 2017 awards lunch
The Sustainable Education Building won the Better Buildings Challenge for its significant reductions from 2012-2016
2016:
The Fleet Services Department staff meet the Blue Seal of Excellence standard by the Institute for Automotive Service Excellence (ASE)

Georgia

Tech's Green Cleaning program is independently certified under Green Seal Standard 

GS-42
​Certified at a Level II

Accreditation by the 

ArbNet Arboretum Accreditation Program

 and the 

Morton Arboretum

, for achieving particular standards of professional practices 

Georgia Tech is the first higher education institute in the state to receive the U.S. Department of Education Green Ribbon Schools award for committing to improve health, reduce energy and environmental impact and assure productive sustainability education

Georgia Tech was selected by the state to pilot the execution of a Guaranteed Energy Savings Performance Contract; Project is focused on energy and water savings in the main district energy plant and is guaranteed to pay for itself through more than $13 millin dollars in savings over a 7 year period with continued savings over the life of the installation
​
2015:
Green Cleaning Award for American Schools & Universities (Grand Award, highest honors) 
Engineered Biosystems Building complete: first of 3-phase project to spur multidisciplinary research in the areas of biomedical research
Roe Stamps Field Renovation: Project of the Year by the Georgia Section of the American Society of Civil Engineers for innovation stormwater detention systems 
Completed the Professional Grounds Management Society Certification earning 3 of 4 stars; Tech is one of only four campuses awarded nationwide
Green Star Best Maintained Landscape: Honors in University and College Category
GT Comprehensive Urban Campus Tree Inventory & Management Project earns President's Award by the Georgia Urban Forestry Council 
 
2014:
1st Place in Organics Reduction: Gameday Recycling Challenge
Holland Plant completed a significant renewal; began offering living-laboratory exhibition tours for students and faculty studying environmental systems and thermodynamics
 
2013:
Clough Undergraduate Learning Commons awarded 

Best of the Best Award in Sustainability by

 International Design Association (IDA) Georgia Chapter 
 
2012:
Carbon Neutral Energy Solutions (CNES) Laboratory completed; Building is a model for energy efficient laboratory space
North Avenue Dining Hall earns Award for Design Excellence by the Atlanta Urban Design Commission, (UDC)
Carbon Neutral Energy Solutions Laboratory Earns NIBS Beyond Green Award 
Georgia Tech's Recycling Program recognized as one of eleven that "Put All Others to Shame"  
 
2011:
Clough Undergraduate Learning Commons opens as a centralizing campus element; Includes 1.4 million gallon cistern, green roof, grey water system and solar installation 
 
2010:
Green Cleaning Award for American Schools & Universities (Honorable Mention)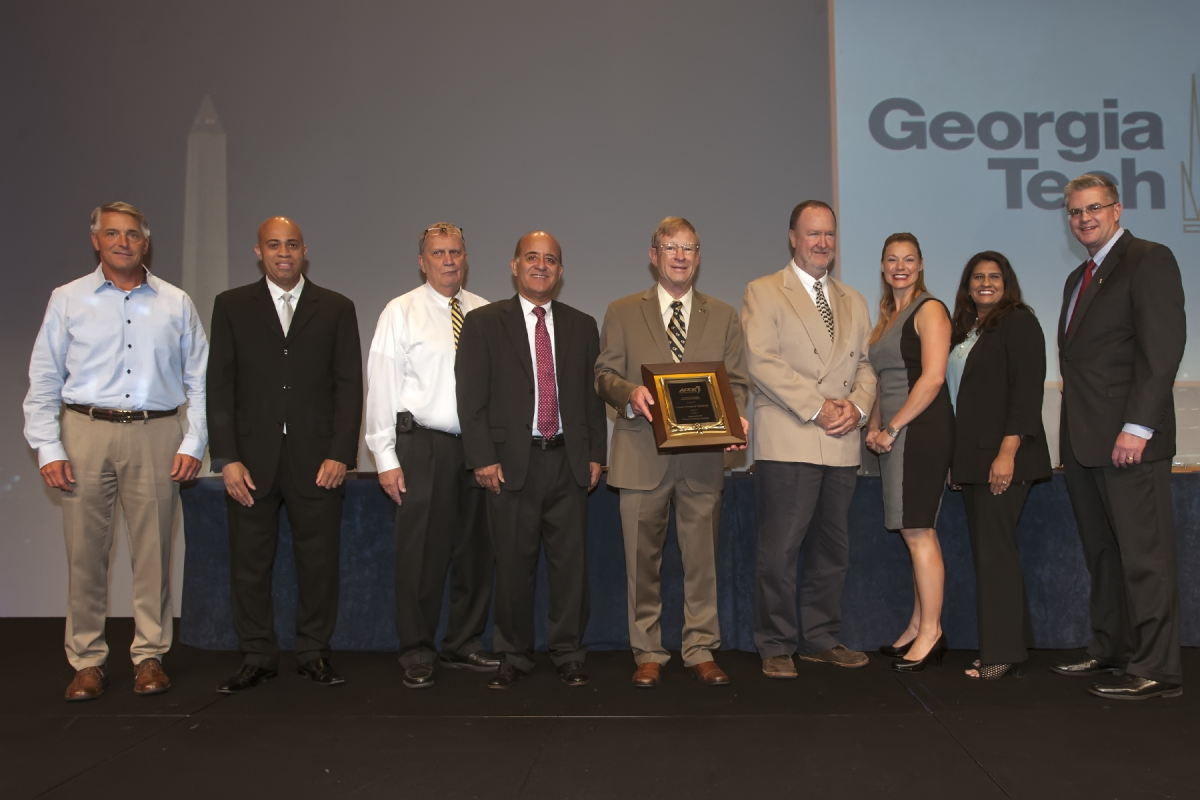 2018: GEORGIA TECH WINS THE APPA AWARD OF EXCELLENCE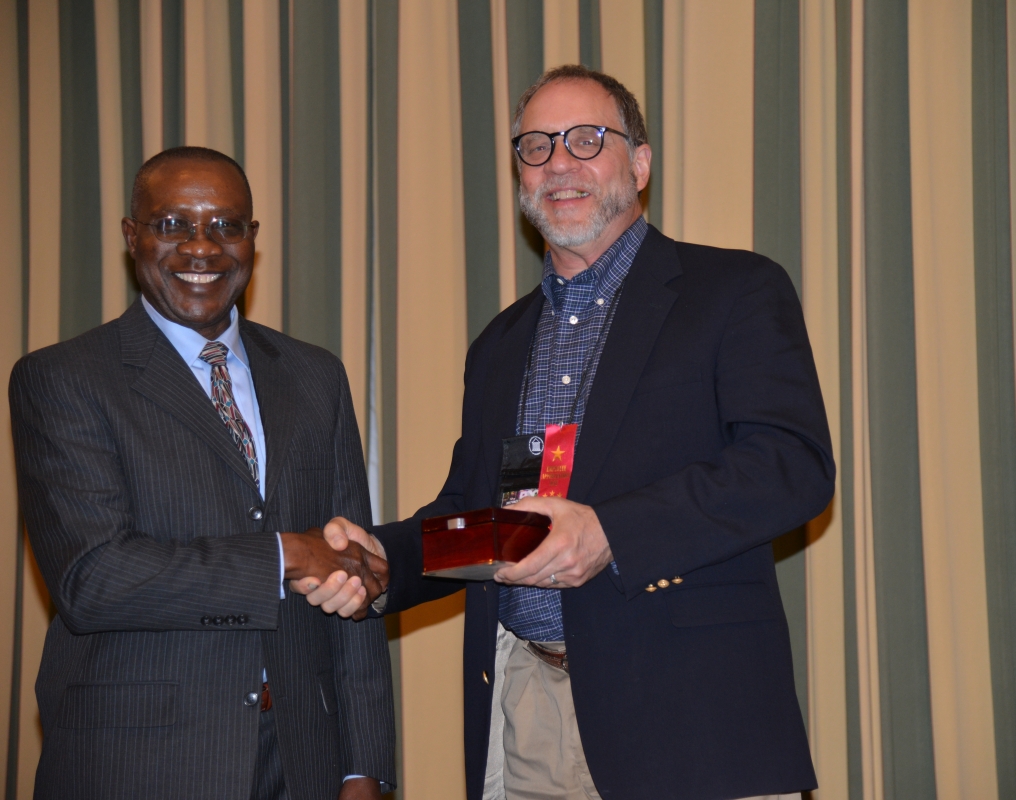 2017: HYACINTH IDE WINS BOARD OF REGENTS DISTINGUISHED SERVICE AWARD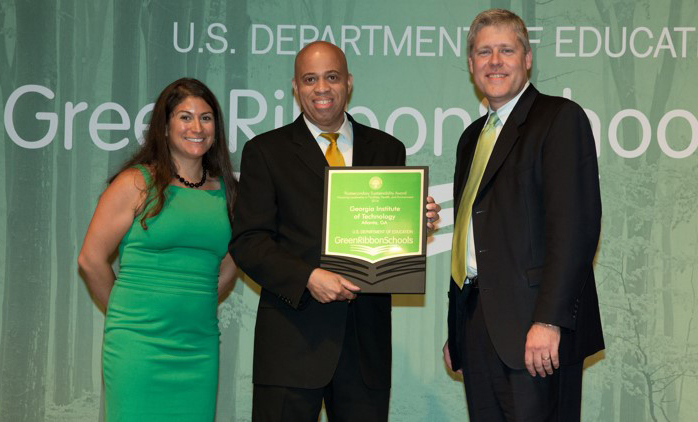 2016: GREEN RIBBON SCHOOL
2015: ENGINEERED BIOSYSTEMS BUILDING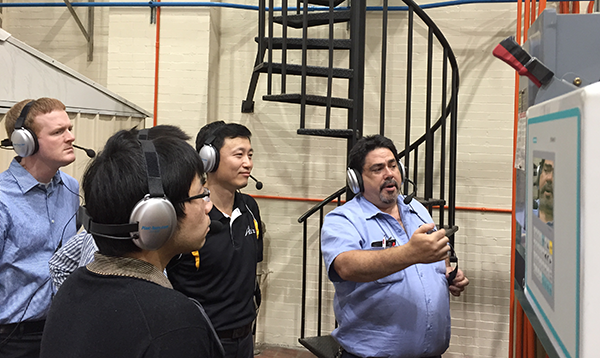 2014: HOLLAND PLANT
Tours are customized to provide real-world information to researchers and students studying utility efficiencies, thermodynamics, environmental systems and more.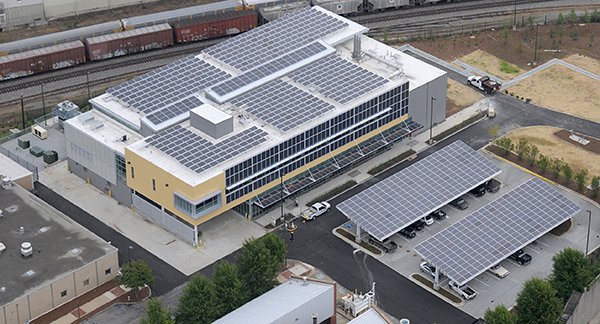 2012: CNES
Includes Extensive Sustainable Features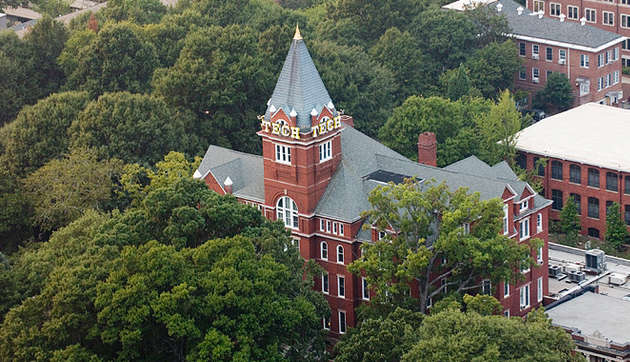 TREE CAMPUS USA
TREE CAMPUS USA
Tree Campus USA® program is an Arbor Day Foundation program that helps colleges and universities around the country establish and sustain healthy community forests.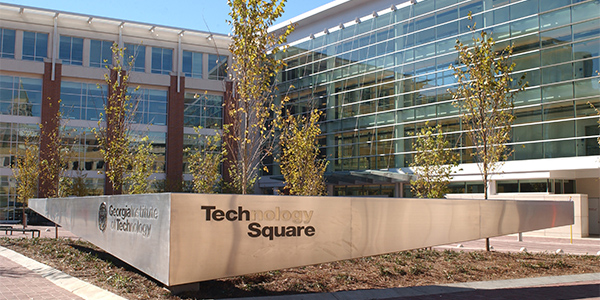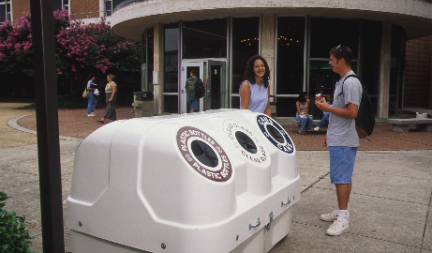 1997: CAMPUS WIDE RECYCLING
Even the earliest combined waste bins were intended to engage and teach the campus community to sort material.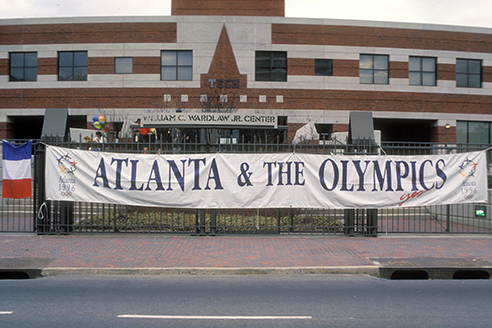 Blank Space (xlarge)
(text and background only visible when logged in)