Boiler Transfer from A. French Building to Bradley Building 9/9 and 9/10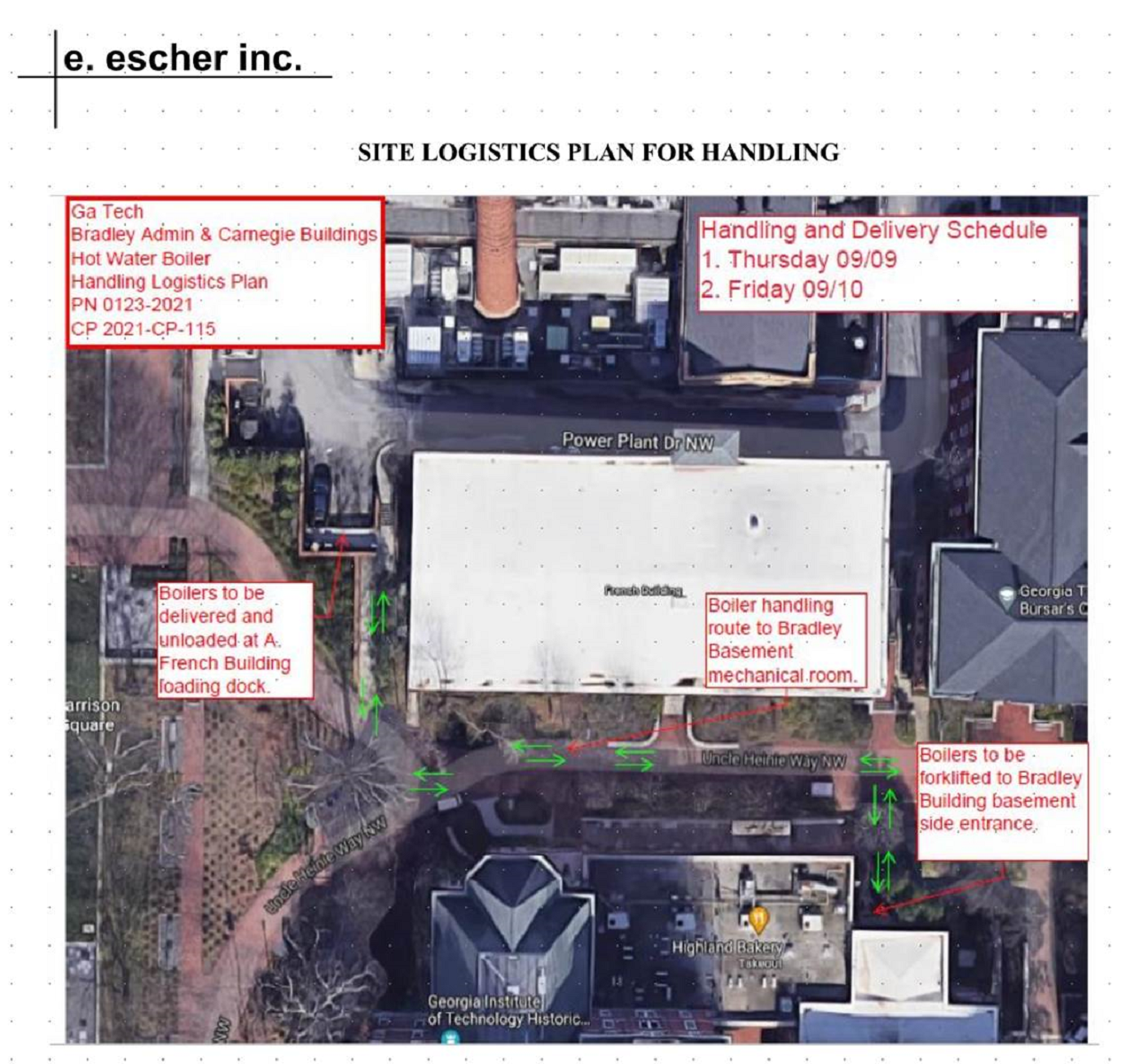 Sep 07, 2021 — Atlanta, GA
A large equipment moving operation will take place in the vicinity of A. French and Bradley/Administration Building on the Hill 09/09 and 09/10 (7 a.m. to 10 a.m.).  The operation will involve the movement of two (2) large boilers from the loading dock at A. French to the basement of Bradley Building with the use of a forklift.  Pedestrians are requested to STAY ALERT AND FOLLOW ALL SAFETY COMMANDS BY THE CONTRACTOR while navigating through the work zone from 7 a.m. to 10 a.m. on 09/09 and 09/10.
The schedule is as follows for each day:
7:00A-7:20A Unload boiler from delivery truck with forklift.
7:15A-7:30A  Deliver forklift to Bradley Building basement stairs.
7:30A-8:00A Rigging of boiler to set boiler below steps.
8:00A-9:30A De-crate boiler, remove and haul-off crate debris, and remove boiler skin. Start handling/moving boiler inside Bradley basement.
10:00A Boiler is inside Bradley basement and forklift is staged on A. French loading dock for Friday 09/10 phase 2 boiler handling work day.
Please note that brief intermittent closure of Uncle Heinie Way may be necessary during the transport of the equipment from the loading dock. Be prepared to use alternate walking paths in the immediate area or wait for the path to re-open if such a closure is required.  The Contractor will provide spotters in front of and behind forklift while in motion to watch for pedestrians.  The green arrows in the map indicate the path of travel for forklift/equipment.