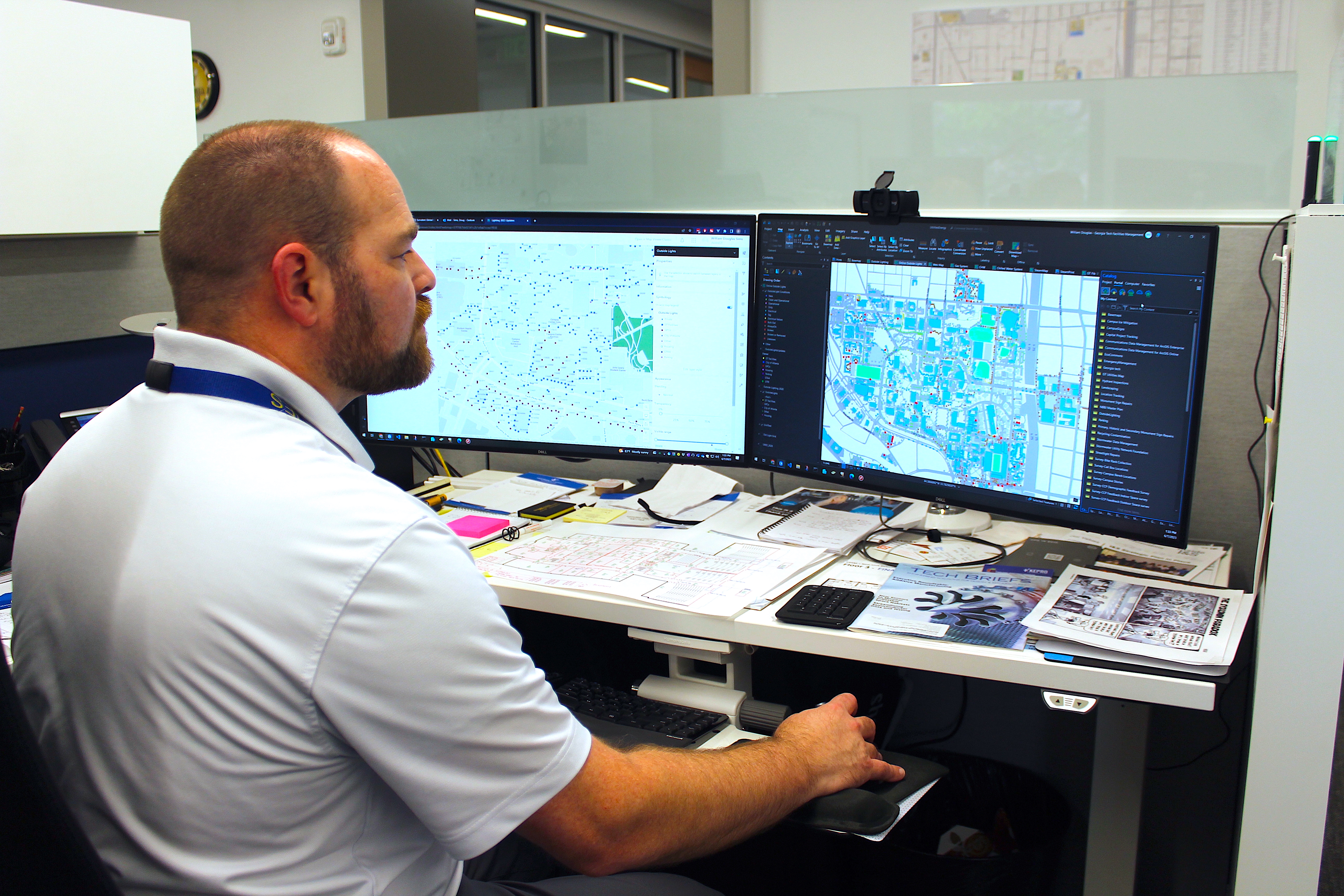 Jun 12, 2023
If you're looking for the nearest trash can on campus or if you're interested in the type of heating system used in any given building, there's a map for that.
In a digital age, an endless amount of data is available at the tap of a screen. That accessibility allows Doug Sims to keep all 482 of Infrastructure and Sustainability's (I&S) maps up to date for the Georgia Tech community.
Sims arrived at Tech in 2008 as a utility analyst. With a background in civil engineering and the keen eye of a land surveyor, he began identifying ways to streamline operations using a geographic information system (GIS). At the time, Sims explained that GIS was seldom used outside of tax assessors' offices, but he recognized its ability to connect lines on a page to valuable data.
"If you're looking at a line for a pipe, you can click on the pipe and see that it's a 10-inch pipe, and you can see what it carries, what it's used for, and where it goes," Sims said.
Over the past 25 years, Sims noted how GIS has exponentially evolved to map out entire countries. Georgia Tech is often described as a city within a city, and with the help of GIS, that presents an opportunity for the department to get a better lay of the land.
"We have our own electrical distribution system. We have our district energy for the chilled water and the steam managed by I&S. When you look at how GIS is normally used, it's normally looking at larger scales. So, once you start shrinking it to a relatively small area like the Tech campus, it changes how you look at things as they become much more detailed," he said.
Now the senior systems support engineer for Infrastructure and Sustainability, Sims' foresight to increase GIS application was a catalyst for the data sets that exist today. In his role, Sims continues to search for ways to capture additional data points and recognizes that the communal nature of a campus setting can provide opportunities for instantaneous collaboration.
"It's a big paradigm shift. It's putting power in the hands of the people where they can make the changes immediately. Whether I'm sitting on campus or 50 miles away, I can make a change. They can hit refresh and see that change immediately. It's changing how we think about and use that data every day," he said.
A recent project, working alongside the recycling and zero waste department, invited students to identify the location of all trash cans and recycling bins on campus. Sims' creation allowed participants to use their phones to pinpoint locations that were added to the map, which has since been used for additional analysis of the Institute's sustainability efforts.
The ability to connect with data instantaneously has helped Sims and his staff, which recently added a new team member –– a Tech alumna who worked with the department as an undergraduate –– to expedite work orders across campus. The first widespread application of GIS mapping empowers members of the Tech community to report landscaping requests to I&S by marking the exact location of the issue, sending photos and any other relevant information directly to an organized dashboard for review. Sims hopes to expand this service to additional services in the coming years.
Keeping campus informed and operating at its most efficient is a point of personal pride for Sims, and, wielding what he calls the "GIS hammer," he hopes to be a springboard to assist other departments using GIS.
"If people want to map something or see what we have, get in touch with me, and let's see if there's a solution we can provide to you," he said. "I'm here to come up with an answer that makes their day easier, makes their job easier, and provides data for other people to share around campus."
Sims laments that while he does get the rare request for printed maps, they are often already outdated while they're still warm from the printer due to the speed at which data changes at Tech.