Cleaning Procedures Change for Low-risk Areas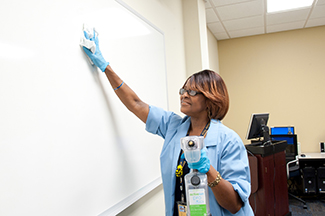 May 10, 2021 — Atlanta, GA
The pandemic necessitated many changes in campus operations to help mitigate the spread of the coronavirus and keep the campus community safe.
Over the last 13 months, we have learned much about how the virus spreads. Recently, the Centers for Disease Control and Prevention (CDC) updated their guidelines on cleaning and disinfection of indoor spaces to account for the relatively low risk of infection from touching a surface.
"While we will continue to appropriately clean and disinfect common areas throughout campus, we are scaling back the frequency in low-risk areas as recommended by the CDC," said Nazia Zakir, interim vice president of Sustainability, Facilities, and Safety.
Beginning May 10, the following changes to the campus cleaning protocols will go into effect:
Discontinuation of fogging of common spaces including hallways, meeting rooms, lobby areas, and classrooms. These types of common areas will be cleaned and disinfected daily by Custodial Services.
Restrooms and elevators will be cleaned and disinfected once a day. However, heavily used restrooms located in buildings that operate 24 hours a day (such as Clough Undergraduate Learning Commons) will continue to be cleaned and disinfected four times a day.
Cleaning of labs will continue to be performed regularly by research personnel who have been trained in proper cleaning methods.
Also, consistent with previous protocols, if an employee is diagnosed with or tests positive for Covid-19, areas occupied by the affected employee will be closed for 24 hours when possible. If a 24-hour closure is not feasible, the area will remain closed for as long as possible without disrupting campus operations. Custodial Services will clean and disinfect all areas used by the Covid-19-positive person.
Environmental Health and Safety will continue to issue disinfectant, tissues, dry wipes, and hand sanitizer for common spaces and individual offices.
"In addition to getting a vaccine, one of the best ways to help prevent the spread of the coronavirus and other illnesses is to regularly wash your hands and use hand sanitizer," Zakir said.
Detailed cleaning procedures are posted on the Facilities Management website.