Town Halls
Infrastructure and Sustainability
(formerly Sustainability, Facilities and Safety (SFS) and prior to that, Facilities Management (FM))
Each town hall will be recorded and posted here for review. *Note that you will need to be logged in with your GT ID to view these recordings. 
August 19, 2022 - Vice President of I&S Maria Cimilluca update on the status of the unit. No recording available.
March 30, 2022 - Review of Cost of Living Adjustments with HR representatives.
February 24, 2022 - Inaugural Town Hall with Vice President Maria Cimilluca - The Path Forward for Infrastructure and Sustainability (Due to technical difficulties, please fast forward to minute 28 in the recording to view the town hall.)  "The Path Forward" PowerPoint presentation from the Town Hall
July 14, 2021  - Announcement regarding reorganization of SFS to Infrastructure and Sustainability
Administration & Finance (A&F) Town Halls
A&F hosts virtual town halls on a variety of topics including strategic initiatives that support the growth of the Institute and the well-being of its people. To view previous event recordings, click here.
Institute Town Halls
As a part of the Covid response and recovery, the Institute continues to host virtual town halls featuring Institute leadership and experts to keep the campus community informed. To view previous event recordings or see the list of upcoming campus events, click here.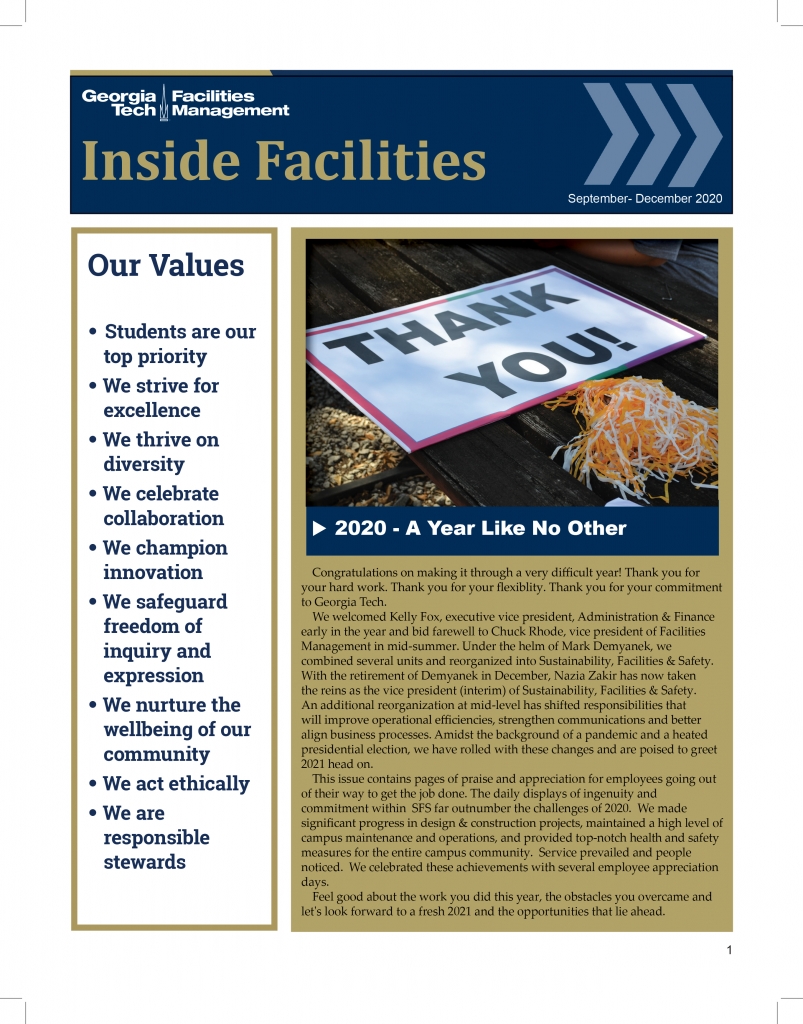 Inside Facilities: Sept. - Dec. 2020
What a year it was! A pandemic and personnel changes made for a challenging year but our service prevailed. All Facilities employees should take pride in what they accomplished. Our strive for excellence and our spirit of collaboration provided a safe, productive semester for students, faculty and staff. This issue outlines many of the reasons why teamwork and dedication was integral to our success.